September 2022
The Hull Foundation's
Sight Loss Monthly News
"The publishing of this newsletter is a service of The Hull Foundation and Learning Center Inc. It is not an endorsement of any of its contents. All products, items and other information may be used at the sole discretion of the reader." Editors, Hull Foundation Staff
Contents
Our Mission Statement:
The mission of the Hull Foundation and Learning Center is to provide programs, facilities and services including social, educational, and recreational activities for people with blindness and sight loss.

*If you would prefer to receive this newsletter by email, or to unsubscribe, please call the Hull Foundation at 503.668.6195 or send an email to: oralhull@gmail.com
One Day Fun Day
September 20th, 2022. One Day Fun Day event. Time is running short on signing up for our next One Day Fun Day Adventure. On September 20th we will be leaving the park at 7:30 a.m. and heading down to Tillamook Cheese Factory with a surprise stop along the way. Once at the Tillamook Cheese Factory we will tour and enjoy lunch and if there's time, we plan to take a walk on the beach. It will be a late return, returning approximately 6:00 p.m. dropping off at the Carl's Jr in Gresham. This is a low-cost event and so spaces are filling fast. Please call the office 503-668-6195 to reserve your seat on Big Red.
Our next One Day Fun Day will be October 5th stay tuned for more details.
GADGET OF THE MONTH
By Marja Byers – Sight Loss Instructor
AfterShokz Bluetooth enabled bone conduction headphones. They are headphones that go above your ear and rest on the top of your jaw, the sound is conducted through the bone, leaving your ears open to listen for things you don't want to or shouldn't miss. I requested them for a birthday present, and I love them! I have a friend who was born deaf in his left ear, he can hear in stereo with my headphones! A number of years back I called the company to ask about people with hearing loss and their ability to hear with these. The customer service rep said that it really depends on the person's hearing loss, but many can.
 A friend and co-committee member has the headset with noise canceling boom mic. We were on a Zoom meeting, and she sounded like she was sitting next to me but I couldn't see a mic, I asked her what she was using; AfterShokz.
 They work with behind the ear hearing aids (many reviewers say the only headset that works for them), as well as glasses (even with a mask added).
 They range from $79.95 for the OpenMove, up to $179.95 for the OpenRun, and the boom mic set is $159.95.
 My only issue has been that sometimes they make my nose tickle/itch!
Marja
Create Your Own Affirmation Bank
By Marja- Sight Loss Instructor
Over 20 years ago on a Valentine's Day I came in to work the night shift at my hospital job. I was greeted by the tech going off shift out at the nurse's station, where she gave me my report, we would normally go back to the surgical suite "core" for report. When I went to the core, I understood why she kept me out front. Spread out on our workroom counter were about a dozen hearts that she had cut out of paper, on either side of each heart she had written something that she liked and appreciated about me such as. "Marja is a good mom to her children and to many others." I didn't tell any of the other staff, I just kept them quietly to myself. In the morning I collected them, took them home and put them into my bathroom drawer. Whenever I was feeling down or defeated, I would take them out and remind myself of the good that others see in me.
One Father's Day I sent my dad a card with similar hearts placed inside a card that started with "You were there for me when…". Dad said that it was the greatest gift that he had ever received.
I lost my hearts long ago but seeing a cute, small, heart shaped curio table (a table with a glass top that lifts open to a box) at a garage sale I knew what I wanted it for. It's now my "Affirmation Table" so when someone has very kind words for me, I write them on a heart and add them to my table. It sits next to my chair and on days when I feel overwhelmed and defeated, I can pull out some of my affirmations and remember why I actually do love to get out of bed every day!
Make Donations Without It Costing a Dime
Amazon Smile Donated $68.84 this quarter to the Hull Foundation. Did you know you can do your regular amazon shopping through Amazon Smile, the prices are all the same and amazon will donate a portion of their sales to The Hull Foundation. To set this up, go to Amazon Smile and click the yellow "get started" button. It will ask for your email or phone number and password. Click on the supporting tab along the top then search for Hull Foundation & Learning Center and press the select button. They will donate 0.5% of eligible purchases to your favorite charitable organization, no fees, no extra cost!
This can also be set up thru the Fred Meyer rewards program. Go to the Fred Meyer app or website and log into your account, click on My Account, then Community Rewards, type in the search bar Oral Hull Foundation and click enroll. You will start earning money for your community organization when you use your rewards card with purchases.
Its an easy way to donate without costing you a dime!
As High and Moderate Adventure Retreats come to an end, we reflect on all the fun we had, and it was definitely a memorable experience. White water rafting was amazing! Tree to Tree obstacle course was so fun we want to do it again next year. We did a 50/50 raffle fundraiser, and the winner donated all the money back to the park, so we have enough to fix the hot tub, woohoo! September 8th at 1:00 we will have a zoom call with retreat regulars who will talk more about the Adventure Retreat and share experiences and stories if you would like to join!
Pies, not me!
By Carrie Muth – Sight Loss Instructor
When growing up, I spent a lot of time in the kitchen. I was my grandmother's shadow & often cooked with my mom. In fact, I prepared my first turkey dinner at the age of 14 (ironically, the same age when I discovered I was legally blind due to RP). Anyway, the one thing I never got the hang of was baking pies. I tended to over work the pie crust, so it was never light & flaky like my mom's or sister's. Several years ago, my sister shared an easy recipe for apple crisp. It is amazing warm topped with vanilla ice cream. It is a favorite of my family's when camping 😊
Apple Crisp
8-10 Apples, cored, peeled, & sliced (I usually use a tarter apple like granny smith or any apple that is good for an apple pie)
Mix into the apples:
1/2 c. flour
1/2 c. sugar (depends on the tartness of the apples)
2-3 tablespoons ground cinnamon
Spread apple mixture evenly in a 9×13 baking dish
Topping:
1 cube butter
1 c flour
1 c Brown Sugar
1 c Oatmeal
** Note: I put these ingredients into a gallon zipper bag & mix thoroughly
Spread topping evenly over apple mixture.
Bake at 350 for 45 minutes
** Note: Brown sugar can cause burning; to prevent, cover with foil after 20 minutes. I do not do this, but others do.
Variations:
Other fruits – I have used the same topping for a mixed berry crisp, blackberry crisp, or any other fruit. It takes 12-14 cups of fruit for a 9×13 pan.

You can make a smaller crisp with 9 cups of fruit for an 8×8 baking dish (be sure to adjust sugar accordingly)

You can use either brown or white sugar depending on the fruit

When making a smaller crisp, I use the same amount of topping because it is delicious)
When having a summer gathering, or camping, I serve the crisp warm with vanilla ice cream on top.
Enjoy the deliciousness 😊
Hull Foundation and Learning Center Book Club
Join us on September 6th at 10:00 a.m. to discuss our book selections for the fall. It's a great time of the year to talk about our summer reads and what appeals to us as the weather changes. Bring your book ideas and join the discussion!
September 20th we will have Elke Bruton from the Oregon Talking Books joining us for a presentation.
September 27th at 10:00am will be our last book club meeting for the month.
September books are "The Maid" DB1062898, Nita Prose and "Run, Rose, Run" DB107053, Dolly Parton.
Facilitated by Marja Byers, Sight Loss Instructor.
Tech Tip Speakerphone with Voiceover
By Marty Sobo – Sight Loss Instructor
When VoiceOver is on and you're on a phone call simply lift your phone to your ear and the speakerphone will turn off and be only coming out of the earpiece. If you take it away from your ear the speaker phone will automatically turn back on once again. As a reminder don't forget to utilize the volume button on the left side of your device. That will adjust the volume of the speakerphone as well as the earpiece. Simple and easy. Enjoy!
By Kat Rogers – Sight Loss Instructor
Are you anybody? This is a story about four people named Everybody, Somebody, Anybody and Nobody. There was an important job to be done and Everybody was sure that Somebody would do it. Anybody could have done it, but Nobody did it. Somebody got angry about that because it was Everybody's job. Everybody thought Anybody could do it, but Nobody realized that Everybody wouldn't do it. It ended up that Everybody blamed Somebody when Nobody did it what Anybody could have done.
Upcoming events at the Hull Foundation
By Kat – Sight Loss Instructor
Advanced Sight Loss Seminar. This is an in-person 3-day, 2-night Advanced Seminar for those who have already attended our introduction seminars or for those just wanting a refresher in areas dealing with daily sight loss issues. We will have guest speakers, tools for moving forward, resources from your community, join us with willingness to participate fully and you will not leave empty handed!
Our next gathering will be Monster Mash! This one is one of our most popular retreats. Please call the office and reserve your spot before we fill up. This year's theme will be monsters from the '60s so prepare your Monster costumes now. There will be the usual haunted room, lots of ooey gooey treats, fun and spectacular games, and eerie crafts.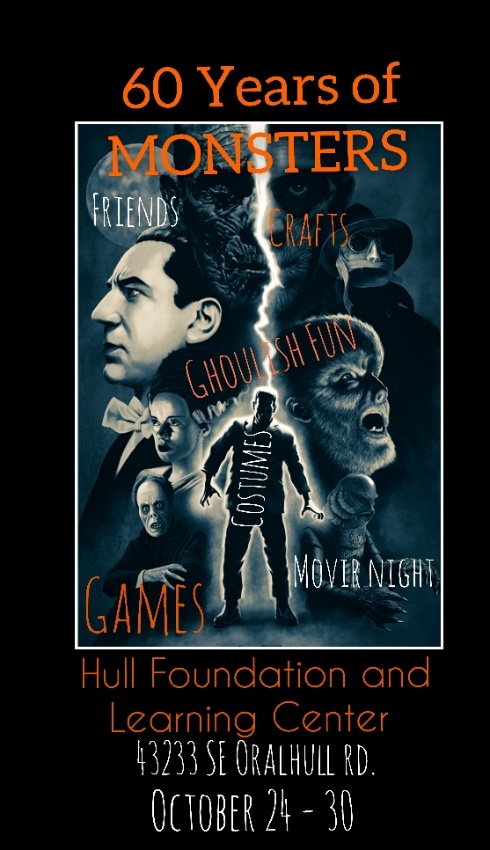 Hull Foundation Presents Zoom Meetings
September Zoom meetings will include Highlights of Adventure Retreats, A Blind Shell Classic with Marty and Michael, Oregon Talking Books Program Manager Elke Bruton, and an Information meeting on our November Sight Loss Seminar, if you are interested, please join us. Bring a friend or spouse, sighted or not!! If you would like to sign up to receive a weekly email with the Zoom schedule for the week and the links to the meetings, please email the office at oralhull@gmail.com or call us at 503-668-6195. If you are not an email user, then you can call us on Mondays to receive the call-in number and Meeting ID number for meetings you are interested in attending via phone.
WEEK 1
September 6th Tuesday 10-11am PDT
Book Club with Marja
September 6th Tuesday 7-8pm PDT
The Chat Café with Teresa and Marja
September 8th Thursday 10-11am PDT
What is Legal Blindness anyway? With Deb Marinos
September 8th Thursday 1-2pm PDT
Highlights of Adventure Retreats with Marja
WEEK 2
September 13th Tuesday 10-11am PDT
A Blind Shell Classic 2 with Marty and Michael
September 13th Tuesday 7-8pm PDT
The Chat Café with Teresa and Marja
September 14th Wednesday 6:30-8pm PDT
How are you Doing and How are you Dealing?
September 15th Thursday 10-11am PDT
Come experience the different impacts of central Vs. Peripheral Vision Loss.
September 15th Thursday 6 -7pm PDT
Navigating Social Situations with Teresa.
WEEK 3
September 20th Tuesday 10-11am PDT
Oregon Talking Books presents a workshop on their services.
September 20th Tuesday 7-8pm PDT
The Chat Café with Teresa and Marja
September 21st Wednesday 10-11am PDT
Decluttering with Teresa
September 22nd Thursday 10-11am PDT
So, what about solutions to vision loss? With Deb Marinos
WEEK 4
September 27th Tuesday 10-11am PDT
Book Club with Marja
September 27th Tuesday 7-8pm PDT
The Chat Café with Teresa
September 28th Wednesday 6:30-8pm PDT
How are you Doing and How are you Dealing?
September 29th Thursday 10-11am PDT
Living with vision loss? With Deb Marinos
September 29th Thursday 1-2pm PDT
Information on November Sight Loss Seminar
More Upcoming Events 2022 will be an exciting and fun-filled year! If you are interested in any of our recreational Getaway events, One Day events and Retreats, please contact our office and get signed up! The spots can fill up very quickly, so jump in with both feet and save your spot and come out to Hull Park in 2022!
Diamond Jubilee scheduled August 20th, 2023!
Welcome back Fun Day celebration at the park. Barbecue chicken dinner, games, vendors, (if you are an artist with sight loss or know of anyone, please let us know.) and music. If you are interested in volunteering or being on the Diamond Jubilee committee, please contact Kat at 503-668-6195 x404, and leave a message as to what is the best time I can call you back, and the best number. This is our 60th anniversary, we are hoping to make this a spectacular one. We are looking for food carts for desserts, ice cream, or cupcakes.
Jokes to Keep you Laughing…or Groaning!
Q. Where do cows go for entertainment?
A. To the moo-vies!
Q. Why don't eggs tell jokes?
A. They'd crack up!
Q. what's an alligator's favorite drink?
A. Gator-ade!
Q. Why is a doctor always calm?
A. Because he has lots of patients! # Contact Us
Stay well, stay safe, and stay happy!
The Hull Foundation Family
Phone: 503-668-6195
Email: oralhull@gmail.com
Website: www.hullparkfortheblind.org
Visit us on Facebook at: https://www.facebook.com/OralHullPark/?notif_id=1631758417290618&notif_t=page_user_activity&ref=notif
On Instagram: https://www.instagram.com/hullfoundation_learningcenter/